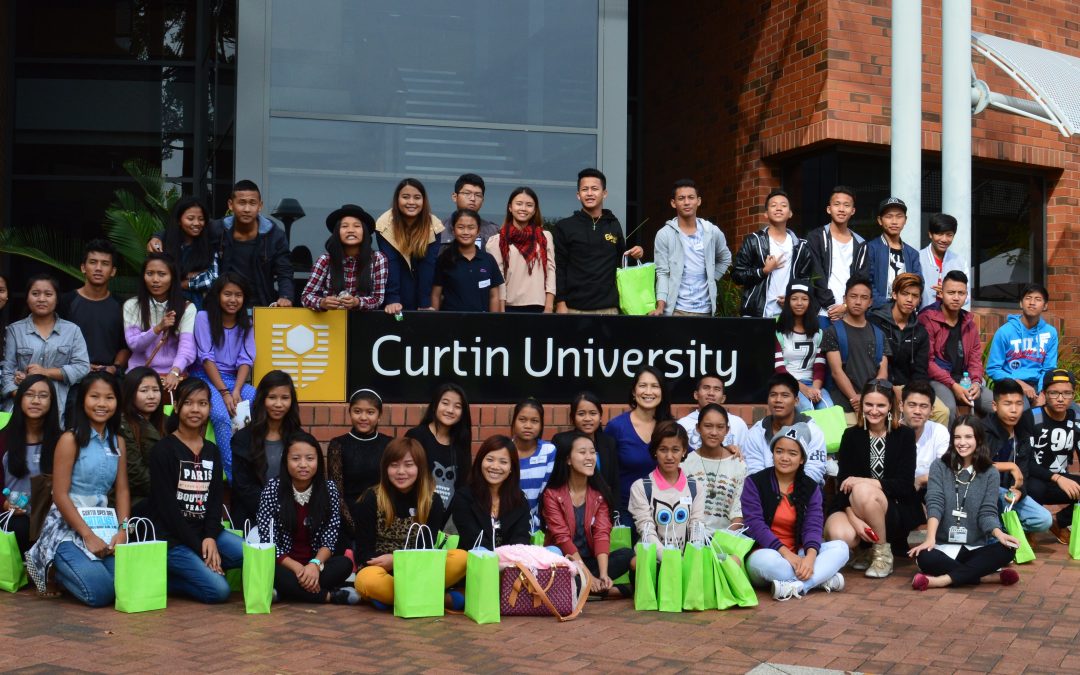 Reflections
Highlights of 2015
In the quiet moments of my summer break, I sat down to reflect on the extraordinary journey we've had in the past year… 2015 has been a busy and amazing year for Mettamorphosis Inc. A wise monk once said, 'What is done is finished'… As we begin a new year, it's timely for us to reflect not only on the on-going challenges we face in our work but also on the many wonderful things we have accomplished and the many blessings we've received.
I want to take the opportunity to express our gratitude to all our friends, supporters and sponsors, without whom much of our achievements would not have been possible…
It has been an extraordinary year for Mettamorphosis Inc. and for our documentary film, How I Became A Refugee since it's launch in November 2014.
Reflections on the year we've had…
In 2015, the documentary film has been successfully screened internationally in Singapore, Toronto, New Zealand and Japan, with various screenings nationally in Western Australia and New South Wales. The film has been very well received and has generated much interest and many engaging conversations.
In April, Mettamorphosis Inc. collaborated with the Equity, Ethics and Social Justice area at Curtin University to organise a Chin campus tour for a group of 60 Chin high school students. Many of them are newly resettled refugees. All of them shared the stories and experiences of displacement, the trauma of living in stateless conditions, and the challenges of resettlement, and most importantly, stories of courage, resilience and the possibilities that education can offer in transforming children and young people's lives.
In April 2015, we received our first international film Award of Recognition at the Best Shorts Film Competition. We were simply blown away; it was totally unexpected and we were absolutely delighted.  But when we received our second international film award at the Global Accolade Film Competition in June, we were speechless.
Around the same time, we were invited to have a special film screening at the Perth Refugee Week Closing Ceremony at the Perth Town Hall, which also featured an inspiring and heart-felt speech by Rubi Ni Chin as the guest speaker. We were interviewed and our story was featured at the ABC News.
The film was then selected for a double screening at Myanmar Film Festival in Los Angeles in September 2015.
In October 2015, we held our annual fundraising event for Mettamorphosis Inc. – Beatles versus Stones musical quiz night at Clancy's in Fremantle. It was a successful and fun-filled evening with amazing live music by Tom Fisher (Tom Fisher and the Layabouts) and Stu Loasby (Datura4) and hosted by Lucky Oceans (ABC Radio National Radio Host, Daily Planet). With the money raised, we are now able to set up an emergency medical fund for the Chin refugee children who are living in stateless conditions in Malaysia. This medical fund will provide basic medical supplies and immunisation. The rest of the funds raised goes to support the Chin schools.
November 2015 when the film was a finalist at the IAFOR Documentary Film Award. The IAFOR Documentary Film Award is a global competition celebrating the best in documentary filmmaking. The competition was judged by Gary E. Swanson, who was a three-time Emmy Award Winning Producer and Editor for NBC Network and Founding Judge of the IAFOR Documentary Film Award.
Then, Christmas came early for us in early December when Mettamorphosis Inc. received the Public Benevolent Institution status from The Australian Charities and Not-for-profit Commission (ACNC) and the Gift Deductible Recipient status from the ATO!!! For a tiny organisation like Mettamorphosis Inc., receiving this status was a miracle! What this means for us now is every dollar that is donated to Mettamorphosis Inc. by businesses, corporations and organisations will be 100% tax-deductible.
People have often asked me about the 'secret' behind the successes that Mettamorphosis Inc. and the documentary film, How I Became A Refugee, have had. An audience member once asked me at a Q&A session after a screening of the film, how much our budget for the film was. When I told him, there was a hush of disbelief across the room and many questions. How was it that a modest film with such a tiny budget and two-person crew has done so well? My answer is this:
Passion and courage are the so-called 'secrets' behind what we've been able to achieve. The work we do at Mettamorphosis Inc. and the film have been driven by what I called, heart-work: the courage, passion and integrity to pursue what is right in spite of the overwhelming challenges, are at the heart of our work.
The success of the film also lies in the power of the Ni Chin family's story, which has touched so many people across generations, cultures, geography and difference.
What is also unique about Mettamorphosis Inc. is that it is a very small not-for-profit organisation run by a small group of passionate people who are committed to human rights and social justice for refugees and asylum seekers, and who work on grass-roots levels. We wanted to keep the organisation small and the work that we do very hands-on so we don't have any administration costs. This allows every cent of the money we raise goes directly to Chin children. Besides raising funds to support the educational and medical needs of the Chin children, we are also focused on raising awareness of the issues facing asylum seekers and refugees. 
What drives us is simple – the belief that the right to feel safe and the right to education is a fundamental human right for every child, especially stateless children.
And what is in store for us in 2016?
In December 2015, Chris, Rubi and I went on a special trip to Kuala Lumpur. It was the first return journey to Malaysia for Rubi since she and her family were resettled in Perth almost ten years ago. We visited the Chin children and the Chin refugee community. It was an emotional, challenging and heart-warming journey for Rubi. Chris and I were able to film Rubi's return journey to Malaysia with the vision of making Part 2 of the documentary, How I Became A Refugee: The Return Journey.  In 2016, we're hoping to apply for funding to make this possible. It will no doubt be another exciting and busy year ahead for us…  
Marilyn
Co-Founder of Mettamorphosis