Award-winning Australian Documentary
'HOW I BECAME A REFUGEE'
'How I Became a Refugee' is an educational and awareness raising project to provide a better understanding of the experiences and challenges faced by displaced people who are forced to leave their homes.
an eye opening documentary
About the film
The documentary covers the true biographical story of the life of the Ni Chin family who escaped religious persecution from the military government in Myanmar by fleeing their home, and journeyed through to Malaysia before being resettled in Perth.
At the heart of the story is Rubi, who tells her story through the eyes of a child having fled her homeland, crossed several borders, in doing so rendered vulnerable to the violence of others, and her life risked in the hands of people smugglers.
"I didn't know whether I was going to die in the next minute or whether I was going to live to see my dad," she said.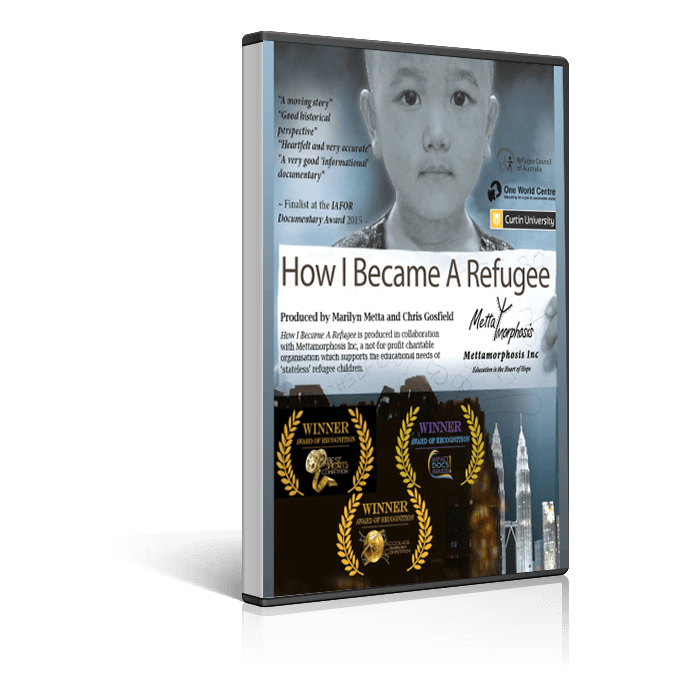 In 2014 the co-founders of Mettamorphosis, Dr Marilyn Metta and Chris Gosfield, produced and directed the documentary film, "How I Became a Refugee".
The film was a finalist for the IAFOR Documentary Film Award (2015), and won the Awards of Recognition at three prestigious international film competitions in 2015, including at The Accolade Global Film Competition (June 2015) and the Best Shorts International Film Competition (April 2015). It was aired on ABC and was screened as part of the Refugee Week celebrations in Perth in 2015.
Order Now
Order your own copy of the DVD
A study guide aimed at secondary students has been recently released to accompany the documentary.
Along with the documentary film, this forms a national educational project called "Understanding Through Participation", undertaken in collaboration with the teachers and educators in high schools across Australia. This educational project aims to explore attitudes towards refugees and asylum seekers amongst high school students, and how participating in the "How I Became A Refugee" educational project might shift attitudes and promote better cross-cultural understandings amongst young people.
The study guide has been specially written for secondary students at all year levels and is aligned to the Australian Curriculum, developed in collaboration with the Australian Teachers of Media (ATOM).